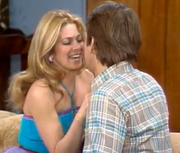 Veronica, Mr. Furley's niece, played by Robin Eisenman
Personal Information
Gender:
Female
Occupation/
Career:
Not mentioned
Character
description:
Niece of Mr. Furley who doesn't blow the whistle on Jack's disguise as his make believe older brother Austin

which he concocts to get closer to her after the two are smitten with each other after they meet

Related to:
Ralph Furley (uncle)
Bart Furley (father)
Mark Furley (brother, only mentioned)
Character information
Appeared on:
Three's Company
Episodes appeared in:
"Double Trouble" (Season 5)
Character played by:
Robin Eisenman


Veronica Furley is a character who appears only in the Season 5 episode of Three's Company titled "Double Trouble". The part of Veronica is played by actress Robin Eisenman.
About Veronica
Furley panics when he suspects that his visiting niece, Veronica is planning to report his incompetence to his brother, Bart, the apartment owner, and her dad. Furley tells Jack that he believes his only salvation is to find a womanizing young man to distract Veronica's attentions; needless to say, Jack, whom he still thinks is "gay", doesn't fit the bill! But Jack, who would like nothing better than to get closer to lovely Veronica, comes up with an idea - he' 11 introduce Veronica to his visiting "twin brother," Austin, from Texas! When the plan works like a charm. Jack, or Austin gets the girl and Furley gets a good report from Veronica, who tells her uncle that Austin showed her a great time! But even Jack's disguise guise as Austin nearly goes awry when Furley insists on showing his gratitude by throwing a party for Jack and Austin and the roommates!