Roger Carmel played the part of Merl Denker, an old friend and rival of Furley's in a Season 4 guest appearance on Three's Company.
Personal Information
Gender:
Male
Birth name:
Roger Charles Carmel
Born:
September 27, 1932
Birthplace:
Brooklyn, New York, U.S.
Died
November 11, 1986
(aged 54)
Deathplace:
Hollywood, California, U.S.
Career/Family Information
Years active:
1958-1986
Character information
Appeared on:
Three's Company
Character played:
Merl Denker, Ralph Furley's old buddy and rival in "Ralph's Rival" in Season 4

Roger Charles Carmel (September 27, 1932 – November 11, 1986) was a television and film actor known for his many guest appearances on TV shows.[1] Roger guest appeared on Three's Company in Season 4 as Merl Denker, an old buddy and rival of Furley's who moves to California in search of a job, pretending that he is a big shot in the episode "Ralph's Rival".
Acting career
Edit
Of his hundreds of roles, Roger is perhaps best remembered to TV viewers for playing the flamboyant and hapless criminal Harry Mudd in two episodes of the NBC-TV series Star Trek: The Original Series: "Mudd's Women" and "I, Mudd", and one episode of Star Trek: The Animated Series: "Mudd's Passion". He is the only actor, other than those who played Enterprise crew members, to portray the same character in more than one episode of the series.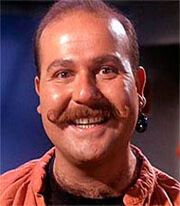 Other guest roles include the accountant Doug Wesley on CBS-TV's The Dick Van Dyke Show and Colonel Gumm on ABC-TV's Batman series. He also appeared in roles on The Patty Duke Show, I Spy, The Everglades, Hogan's Heroes, Car 54, Where Are You?, Banacek. The Man from U.N.C.L.E., The Munsters, and Hawaii Five-O. He was a regular contestant on Pantomime Quiz, also known as Stump the Stars.
Voice and other works
Edit
Roger also voiced Smokey Bear in fire safety advertisements and Decepticon Lieutenant cyclonus, amongst others, in the second and third seasons of the popular Transformers animated series. In the television commercials for the Naugles chain of Mexican fast-food restaurants, he played the character of Señor Naugles. He also appeared in Jerry Lewis's comeback 1981 film, Hardly Working.
Carmel starred as milksop Roger Buell in the 1967 NBC sitcom The Mothers-in-Law, but was replaced by Richard Deacon. Officially, Carmel had a salary dispute with producer Desi Arnaz, Sr., although, according to rumors, he was fired because his drug use interfered with production.[2] Carmel was slated to reprise his role as Harry Mudd in the Star Trek: The Next Generation first season finale episode, "The Neutral Zone", but died before filming could commence in Hollywood, of hypertensive cardiomyopathy. [3] (A potential guest appearance on Star Trek: The Next Generation is doubtful, as Carmel died more than a year before that particular episode was even written. Also, this is the only source claiming such.) Carmel was interred in New Mount Carmel Cemetery in Glendale, Queens, New York.
After his death, Jack Angel took over his role as Cyclonus in The Transformers.
References
Edit
External links
Edit
External Video links
Edit
Ad blocker interference detected!
Wikia is a free-to-use site that makes money from advertising. We have a modified experience for viewers using ad blockers

Wikia is not accessible if you've made further modifications. Remove the custom ad blocker rule(s) and the page will load as expected.