Robin's Nest Opening Screen.
Basic Information
Created by:
Brian Cooke and Johnnie Mortimer
Related shows:
Man About The House
George and Mildred
inspired the American TV series Three's A Crowd
Cast Information
Executive Producer(s):
Peter Frazer-Jones
Starring:
David Kelly
Richard O'Sullivan
Tessa Wyatt
Distribution and Broadcast Information
Distributed by:
Fremantle Media
First aired:
January 11, 1977
Last aired:
March 31, 1981
Seasons:
6 series
No. of episodes:
48 episodes
Current status:
Ended
Country:
United Kingdom
TV Network:
ITV

Robin's Nest is a British sitcom starring Richard O'Sullivan as Robin Tripp, one of the lead characters in the sitcom, Man About The House, which had ended on  April 7, 1976. Robin's Nest aired for six series from January 11, 1977 to March 31, 1981, and co-starred Tessa Wyatt as Robin's girlfriend - and later wife - Vicky, and Tony Britton as her father. It was made by Thames Television and aired on ITV.
In the first episode Robin and Vicky, who share a flat over a Chinese take-away, discover that their landlords, unable to pay the rent, have disappeared and that the building is in danger of re-possession. It is the practical Vicky who comes up with the perfect solution: Robin should take over the take-away and convert it into a bistro (The "Robin's Nest" of the title). Robin cannot afford to go it alone so he has to go cap-in-hand to Vicky's father, James Nicholls (Tony Britton), to ask him to be his business partner. Although, Nicholls disapproves of Robin (believing him to be beneath his daughter), he knows a sensible business deal when it is offered to him – despite his failings, Robin is a brilliant chef – and he agrees. Lots of tension and misunderstandings are to arise from their mismatched relationship.
Creators Cooke and Mortimer had to get special permission from the IBA (the then governing body of Independent TV in Britain) to be able to portray an unmarried couple living together; special concern arose at scenes in which Robin and Vicky were seen in an obvious state of undress in bed. In 1978, Robin and Vicky were married and later had a set of twins.
Other characters
Edit
Other characters included:
The one-armed Irish kitchen hand Albert Riddle (David Kelly), who always broke more crockery than he cleaned, and who once asked Robin's culinary advice; unable to cook egg on toast, he asked Robin "How do you stop the egg dribbling into the bottom of the toaster, Mr Tripp?".
Gertrude, Albert's girlfriend, played by ex-Crossroads actress Peggy Aitchaison. The late Peggy often said that it was a shame that Albert and Gertrude never married "There was so much comic potential there."
The show was remade in the United States as Three's A Crowd, a spinoff to Three's Company – originally based on Man About the House – but was unsuccessful. In 2004, a Polish version was screened, named Dziupla Cezara.
Star of the show Richard O'Sullivan wrote the theme music for the programme, which was arranged and performed by Brian Bennett.
DVD releases
Edit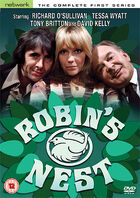 All six series of Robin's Nest have been released on DVD in the UK (Region 2).
DVD
Release date

The Complete Series 1

24 September 2007

The Complete Series 2

19 November 2007

<center>The Complete Series 3
<center>26 May 2008
<center>The Complete Series 4
<center>21 July 2008
<center>The Complete Series 5
<center>1 September 2008
<center>The Complete Series 6
The Complete Series 1 to 6 Box Set
<center>3 November 2008
List of episodes
Edit
Series 1
Series 2
Series 3
Series 4

Sleeping Partners
The Bistro Kids
A Little Competition
The Maternal Triangle
Piggy in the Middle
A Matter of Note
Oh Happy Day

As Long as He Needs Me
The Seven Pound Fiddle
Ups & Downs
Three Times Table
Great Expectations
Love & Marriage

You Need Hands!
The Candidate
Just Desserts
Away from All What?
England Expects
Once Two is Three
Dinner Date
Everything You Wish Yourself!
Be it Ever So Humble!
Day Trippers
The Long Distance Runner
At Harm's Length
The Happy Hen

Should Auld Acquaintance?
Person Friday Required
Lost Weekend
Too Many Waiters Spoil the Bistro
September Song
Sorry Partner
Albert's Ball
Special
Series 5
Special
Series 6

Christmas at Robin's Nest

Pastures' New
A Man of Property
If You Pass "Go", Collect £200
Never Look a Gift Horse...
Just an Old-Fashioned Girl
Great Expectations

Move Over, Darling!
The Homecoming
No Smoke Without Fire
When Irish Eyes are Smiling
Anniversary Waltz
Wish You Weren't Here?
The Headhunters of SW6
External links
Edit
Ad blocker interference detected!
Wikia is a free-to-use site that makes money from advertising. We have a modified experience for viewers using ad blockers

Wikia is not accessible if you've made further modifications. Remove the custom ad blocker rule(s) and the page will load as expected.