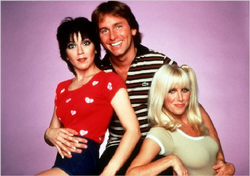 This page lists all of the primary and supporting cast members of Three's Company, as well as guest characters central to the storyline of the series.
Characters and cast
Primary characters
| Role | Seasons | Details | Portrayed by |
| --- | --- | --- | --- |
| Jack Tripper | 1–8 | A clumsy culinary student (later chef, then restaurant owner) from San Diego, A Navy veteran, and swinging bachelor who at times, has had steady girlfriends. | John Ritter |
| Janet Wood | 1–8 | Born in Indiana, Janet is a down-to-earth brunette who was also an aspiring dancer. She worked as manager of the "Arcade Flower Shop" and also later in the last season part-time as an aerobics instructor. In the final season, she gets married and becomes Janet Wood-Dawson | Joyce DeWitt |
| Chrissy Snow | 1–5 | A nice, but ditzy blonde secretary from Fresno with an honest, childlike naivete whose real name is Christmas Snow. | Suzanne Somers |
| Cindy Snow | 5–6 | Chrissy's beautiful, stauesque, accident-prone cousin, a secretary and later, veterinary student at UCLA. | Jenilee Harrison |
| Terri Alden | 6–8 | A bubbly, lovely looking, intelligent blonde nurse, who hits it off with Janet upon their meeting at the Santa Monica Community Hospital where she works, but intially clashes with Jack, who receives a tetanus shot from her. Although she  regularly has dates, in the past she has been unlucky in love. | Priscilla Barnes |
Secondary characters
| Role | Seasons | Details | Portrayed by |
| --- | --- | --- | --- |
| Larry Dallas | 1–8 | A womanizing, playboy-type, an upstairs neighbor to the roommates, used car salesman, and Jack's best friend. | Richard Kline |
| Stanley Roper | 1–3 | A hard-nosed, at times miserly and penny-pinching, somewhat romantically impotent landlord.who is deceived into thinking Jack is gay, so he won't stop him from living with the female roommates Janet and Chrissy. | Norman Fell |
| Helen Roper | 1–3 | Stanley's muumuu-wearing, love-starved and sex deprived wife who serves as husband Stanley's foil, and a buffer between her husband and the roommates, who she is also friends with. | Audra Lindley |
| Ralph Furley | 4–8 | A goofy, yet friendly, flamboyantly-dressed landlord who fancies himself a ladies' man who becomes a friend to the roommates and Larry. | Don Knotts |
| Lana Shields | 4 | An attractive older female love-starved upstairs neighbor who doggedly pursues Jack but is also in turn pursued just as feverishly by Mr. Furley, much to her chagrin. | Ann Wedgeworth |
Recurring characters
| Role | Seasons | Details | Portrayed by |
| --- | --- | --- | --- |
| Jim the Bartender | 1–5 | Bartender at The Regal Beagle | Paul Ainsley |
| Mike the Bartender | 5–8 | Bartender at The Regal Beagle | Brad Blaisdell |
| Dean Travers | 1–6 | Dean at Jack's cooking school | William Pierson |
| Reverend Luther Snow | 3 | Chrissy's sometimes overprotective, but still caring minister father who later befriends the other roommates, Jack and Janet. | Peter Mark Richman |
| Linda | 3 | Jack's girlfriend and one-time temporary roommate | Anne Schedeen |
| Frank Angelino | 6–7 | Jack's short-tempered, often times duplicitous boss | Jordan Charney |
| Felipe Gómez | 6 | Jack's one time jealous co-worker at Angelino's Restaurant who becomes a friend to the roomates and Mr. Furley, who even works at Jack's Bistro as cook for a few episodes. | Gino Conforti |
| Vicky Bradford | 8 | An airline stewardess who meets Jack on a return flight from San Francisco to L.A., later soon courting him and becoming his live in girlfriend, moving into the upstairs room above Jack's Bistro; appears in the final 3 episodes of the series. Her character and Jack's is spun off into the Three's A Crowd series. | Mary Cadorette |
| James Bradford | 8 | A wealthy investment banker and meddling father, who, in order to keep tabs on daughter Vicki and Jack, buys the property where Jack's Bistro stands from Angelino, in effect becoming Jack's landlord and partner. Appears in the final 3 episodes of the series. Spun off with Jack and Vicky character into Three's A Crowd. | Robert Mandan |
| Phillip Dawson | 8 | In the final season Janet courts, and then marries Phillip, a nephew of a Mr. Wilson, a recently deceased wealthy regular customer. The two meet at the reading of his uncle's will. David appears in the final 4 episodes of the series. | David Ruprecht |
Cast changes
Three's Company had many cast changes over its run. The first of these changes took place in the spring of 1979 with the relocation of the Ropers to their own television series (The Ropers), which revolved around Helen and Stanley, and their neighbors in a townhouse community after Stanley had sold the apartment building. Man About The House had similarly spun the Ropers off for the series George and Mildred.
Two changes took place in the fall of 1979, at the beginning of the fourth season. The first was the addition of Lana, an older woman who chased Jack around. She liked to pursue him but he did not appreciate her advances. Since Ann Wedgeworth did not appreciate her diminishing role in the series, Lana was dropped from the show without any explanation before the season was half over. The other new addition that fall was the new building manager, Ralph Furley (played by Don Knotts), whose brother Bart bought the building from the Ropers. Mr. Furley pursued Lana unsuccessfully, as she unsuccessfully pursued Jack. Unlike Lana, he appeared until the end of the series.
Season five (1980–1981) marked the beginning of contract re-negotiations and sparked friction on the set. When Somers' demands for a heavily increased salary (from $30,000 to $150,000 per episode, plus 10% of the show's profits[1]) were not met, Somers went on a strike of sorts. Executives believed that a complete loss of Somers could damage the program's popularity so a compromise was reached. Somers, who was still under contract, continued to appear in the series, but only in the one-minute tag scene of a handful of episodes. Somers' scenes were taped on separate days from the show's regular taping; she did not appear on set with any of the show's other cast members. According to the story, her character had returned to her hometown of Fresno to care for her ailing mother, and was only seen when she telephoned her former roommates, and they recounted that week's adventures to her. This arrangement continued for one season. Somers' contract was not renewed and Chrissy's place in the apartment was taken by her clumsy cousin Cindy Snow (Jenilee Harrison).
Another replacement, Terri Alden (played by Priscilla Barnes), a clever, sometimes sassy nurse, joined the cast in the sixth season (1981–1982). In the script, Cindy was to move to college to fulfill her dream of becoming a veterinarian, and would continue to visit throughout the sixth season.
The show ended with the departure of all cast members except Ritter, who moved on to the spin-off Three's a Crowd, itself based upon Man About the House's spin-off Robin's Nest.
After more than 30 years of not talking to each other, Suzanne Somers and Joyce DeWitt finally made up and reunited for Suzanne's web series Breaking Through which aired February 2, 2012. [2][3]
References
↑ "Three's Company" at the Museum of Broadcast Communications. Museum.tv (1977-03-15). Retrieved on 2011-02-03.
↑ Suzanne Somers Breaking Through. CafeMom. Retrieved on 31 August 2012.
↑ Joyce DeWitt and Suzanne Somers Reunite After Over 30 Years! To Air Feb. 2 On The Web; 69th Annual Golden Globe Awards Winners - SitcomsOnline.com News Blog. Blog.sitcomsonline.com (2012-01-16). Retrieved on 2012-08-26.
References